Brand talk
Baume & Mercier - Linea: life's simple pleasure
Accompanying every one of life's special moments, Baume & Mercier has always made it a point of honor to create women's watches that are sleek and elegant. To evoke such a unique spirit, this watchmaker, founded in 1830 and unfailingly tuned in to contemporary trends, approached the young Canadian actress, Emmanuelle Chriqui. This artist, famous for her work on the series "Entourage" and "The Mentalist", appreciates "the simple pleasures in life." She perfectly embodies the natural elegance that is so characteristic of the Linea collection.
In her own way, this multi-dimensional woman has the gift of being able to truly identify with the Linea collection. Sophisticated and refined, this watch has now become a true icon as it epitomizes a certain ideal of life; it is a carrier of timeless values and of contemporary elegance.
The collection has seen its creative uses multiplied thanks to its interchangeable bracelets, and now offers each Linea owner the freedom to reinvent their look as often as they wish. To fully capture the spirit and trends of the times, Baume & Mercier is offering, with the help of Canadian actress Emmanuelle Chriqui, an assortment of woven leather bracelets in colors that correspond to the key shades of the Spring/Summer 2013 season. The goal is to find the perfect balance in bestowing an on-trend dimension to sophisticated and delicate watches, thus fulfilling the expectations of all women wishing to give new character to their watches, and to do so in a way that perfectly corresponds to how they feel at each and every moment.
Linea 10115: Spring/Summer 2013 Limited Edition

Simultaneously balanced and multi-faceted, the Linea watch has a 27 mm diameter and a quartz movement, mounted on an orange, hand-woven lambskin bracelet. This shade was selected as a key trend from the Spring/Summer 2013 season and is sure to resonate with women and provide a new dimension to this discreet and feminine timepiece. This watch in polished, satin-finished steel featuring a mother-of-pearl dial with snailed finishes demonstrates its versatility by offering the opportunity to change the timepiece's interchangeable bracelet.
Linea 10116: Spring/Summer 2013 Limited Edition

Thanks to the virtue of interchangeable bracelets, the Linea watch possesses a playful dimension, transforming into an on-trend piece. Housing a quartz movement, this watch boasting a snailed finish, mother-of-pearl dial with riveted indices, exudes high fashion with the addition of its beige, hand-woven lambskin bracelet.
Linea 10117: Spring/Summer 2013 Limited Edition

With the purity of its immaculate white bracelet in hand-woven lambskin, the Linea watch is a work of art transcending philosophy and time. Delicate and versatile in its design, and able to transform according to the wearer's desires, this watch is also incredibly easy to use. Powered by a quartz caliber, this watch is worry-free when setting the time, and employing the interchangeable bracelet is also an easy task. Available in white for the Spring/Summer 2013 season, the watch features a white, mother-of-pearl dial with a delicately snailed finish.
Linea, harmony of shapes

Delicate and feminine, the new Linea Automatic, available in a 27 mm case, possesses the presence of a timeless gem with the elegance of an unfussy time display. It is also imbued with the nobility inherent in watches powered by a Swiss mechanical caliber and automatically wound by the movements of its owner. Its sensible size, perfect curvature and the slim, reliable movement of excellent quality selected for this very reason, make it ideal for wear on a dainty bracelet. But one thing that cannot be missed: the Linea is no run-of-the-mill watch. Ever since its launch in 1987, this beautiful timepiece, available in steel or two-tone, has been at the forefront of watchmaking creativity and has transcended the essence of what a women's watch should be: an attractive adornment with the features and potency to arouse a visual emotion.
A delicate mechanism
When we began to offer women's watches with automatic mechanical movements, we were ensuring these accessories would see the years go by without a hint of aging, offering functional adornments with soul and a guaranteed future. This exquisite mechanism, the true heart of the watch, can be admired through the transparent case back. In their determination to always give of their best, our talented craftsmen, master watchmakers and engineers are now proud to present women's watches equipped with these high-precision movements, long believed to only be of interest to men.
An automatic movement visible through a transparent case back

This iconic watch, with its bezel so distinctively engraved in steel or in steel trimmed with gold and carrying the hour figures, has now reinvented its own legend, choosing to partner an automatic movement with innate qualities that well deserve to be revealed through the transparent case-back. This final choice will cast its spell over dynamic, multi-talented women, delighting those whose timeless penchant for watchmaking gems will express itself fully in using a movement reputed for passing unfailingly from one generation to the next. That's why the Linea, a small miracle of sophistication, is worn on a steel or two-tone bracelet, designed with a flexibility that adapts to its wearer's every movement without calling attention to itself. Yet this bracelet possesses a secret enabling it to adapt to every situation in life, thus meeting the expectations of all owners who are attached to their version of the Linea.
An interchangeable bracelet

To make these wishes reality, Baume & Mercier have invented a bracelet incorporating a patented mechanism that makes it simple to remove without any tools. The Geneva-based company has also created a whole series of interchangeable straps and bracelets in leather or satin-finished, on offer in a wide range of colors, making this watch unique and in harmony with the tastes of every woman who wears it as a seductive accessory. This is an ingenious feature to be used without restriction, enabling this superlative timepiece to keep pace with changes in fashion, trends and the seasons. Available in top-quality steel or in two-tone, these two new Linea watches are powered by a Swiss-made automatic mechanical movement with a time display including a direct-drive center second hand and a discreet date window at 6 o'clock in the mother-of-pearl dial set with 11 diamonds. These two new models will reveal the true personality of their rightful owners: accomplished, liberated women.
STAY CONNECTED WITH WTHEJOURNAL
Categories
Brands
Archives
Watches The Guide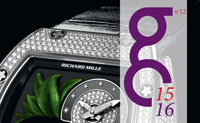 Download the pdf