Swiss watchmaking: key figures
The Swiss watchmaking industry is both prosperous and extremely secretive. Reliable figures are hard to come by, and are never provided directly by watchmaking brands themselves. Only the Federation of the Swiss Watch Industry regularly publishes official export data, while the Convention patronale de l'industrie horlogère suisse (an employers' federation representing the Swiss watchmaking industry) releases information on the state of employment in the watchmaking sector. Some private research institutes have also come up with figures based on their own estimates*, but these tend to be fairly sporadic.
How important is the watchmaking industry in Switzerland and the rest of the world? Which are the most powerful brands? Who buys Swiss watches? Who is competing against Swiss watch manufacturers? Montres Le Guide has investigated, and invites its readers to dive into the fascinating world of watchmaking to find out more about some of its best-kept secrets.
By : Julie Mégevand
The Swiss watchmaking industry: a world leader (in terms of value)
Switzerland exported 29.2 million finished watches in 2012, a drop of 2.2% on the previous year. However, this figure only represents 2.5% of the 1.2 billion watches manufactured worldwide over the same period – practically nothing, in terms of quantity. China is, in fact, the market leader in this respect, producing 663 million watches in 2012. It is the world's largest exporter of finished watches, followed by Hong Kong, which produced 354 million. Switzerland comes in third place. However, the opposite is true when it comes to value, where Switzerland takes the lead, producing 95% of all watches sold at prices of over 1,000 francs. It should also be noted that, in 2012, Swiss watches cost on average 739 dollars (688 dollars in 2011), as opposed to barely 3 dollars on average for watches manufactured in China.
Swiss watch exports hit a record high
The Swiss watchmaking industry is unique in the world. Unsurprising as it may seem, this is an undeniable fact, particularly if we consider the latest – impressive – figures concerning annual Swiss watch exports. In 2012, exports totaled 21.4 billion francs, up 10.9% on 2011, when they already reached 19.3 billion francs (+19.2% in just one year). Despite an unpredictable global economic climate, the facts remain indisputable: Swiss watch exports have confirmed the healthy state of the industry, which has enjoyed two successive record years. In 2013, the industry is expected to continue consolidating this growth and achieving new records, but at a slower pace. This trend is already noticeable, with growth rates dropping from 19.2% in 2011 to 10.9% in 2012.
Who buys Swiss watches?
2012 saw a rise in exports to all regions, with Europe experiencing the highest annual growth (+16.3%), representing 6.5 billion francs. By absorbing 30% of Swiss watch exports, Europe is even retrieving some market share from Asia, which nonetheless continues to absorb 54% of exports, for a value of 11.6 billion francs. With regard to individual countries, Hong Kong remains the largest destination for Swiss watch exports, serving as a commercial hub for the rest of Asia. In 2012, Hong Kong purchased 20.4% of all watches produced in Switzerland (equivalent to 4.4 billion francs). Hong Kong is followed by the United States (10.2%, equivalent to 2.2 billion francs) and China, which, with a share of 7.7% (representing 1.6 billion francs), has been the third largest market for Swiss watches for the second consecutive year. In Europe, Germany spent 1.2 billion francs on Swiss watches, a significant increase of 33.1% in one year, and ranks in fifth place.
A job-creating sector
The watchmaking and microtechnology sector currently employs nearly 56,000 people in Switzerland, a figure that has risen by 5.7% and has remained unmatched for over 35 years. We would have to go back to the start of the crisis in the watchmaking industry in 1975 to find a figure higher than the 2012 figure (which is 55,816 employees to be precise). Since the 2010 census, the number of people working in the watchmaking sector has increased by 7,268 (+15%). The loss of 4,800 jobs between the end of 2008 and the start of 2010 now seems a distant memory. The top three cantons for employment in the watchmaking industry are Neuchâtel (15,323), Berne (11,184) and Geneva (9,358). The watchmaking sector is also benefiting from increasingly more qualified staff in its workforce. The percentage of employees who hold a vocational watchmaking qualification or have high-level specialist training has risen to 62.9% (compared with 61.5% in 2011), which is equivalent to two thirds of the workforce. Twenty years ago, only a third of the workforce were similarly qualified.
Most popular materials for "Swiss made" watches
Gold gained the most in popularity in 2012. In terms of value, gold and steel are growing at almost equal rates. Of the total 21.4 billion francs in exports, gold watches represent 7.3 billion francs (up 20.5%), whereas steel watches represent 7.6 billion, a (less impressive) increase of 8.2%. Bimetallic watches – normally made of gold and steel – come next, representing 3.3 billion francs (+5.3%). In terms of volumes exported, steel takes the lion's share with 53% of exports, compared with 2% for precious metals.
The three leading companies according to the COSC
A real institution in the world of high-end watchmaking, the Contrôle officiel suisse des chronomètres (Official Swiss Chronometer Testing Institute, or COSC) is an independent body responsible for testing and certifying the accuracy of movements that are capable of displaying seconds. After several days of tests in various positions and temperatures, the COSC decides whether or not to certify watches as "chronometers" (not to be confused with "chronoscopes" or "chronographs", which are instruments used to measure and record short intervals of time). The COSC is responsible for certifying mechanical calibers and quartz movements. In 2012, around fifty companies and movement manufacturers submitted calibers to the COSC for testing. In total, a record 1.73 million movements were awarded the famous "chronometer" certification. Three companies have remained the market leaders in chronometers for several years. Rolex takes first place, with 798,935 COSC-certified movements in 2012, followed by Omega, with 526,046 certified movements, and Breitling, with 156,773 (including 35,448 quartz movements).
Global watchmaking empires
Between them, Swatch Group, Richemont and Rolex account for 45.8% of the global watch market. This percentage has increased since 2011, as these three companies have taken market share from the next largest companies. Fossil (USA) takes fourth place, beating LVMH, which had made it to the top of the rankings the previous year thanks to its acquisition of Italian jewelry house and watch manufacturer Bulgari. The three largest Japanese watch manufacturers (Citizen, Seiko and Casio) together represent 9.4% of market share – less than that of Rolex alone.
Switzerland's most valuable brands
According to the "Best Swiss Brands 2013" study, published by brand consultancy firm Interbrand, sixteen watch manufacturers are among the 50 most valuable Swiss brands. Two even made it into the top ten! Perhaps unsurprisingly, these were Rolex and Omega. With an estimated brand value of 6.6 billion francs, Rolex came fifth in the overall rankings after Nescafé, Roche, Novartis and Nestlé. Omega took tenth place, with a value of 3.3 billion francs. Interbrand's analysis was unequivocal: "Switzerland has been producing strong brands for a long time. Thanks to its diversity and remarkable capacity to innovate, this country is almost unmatched in terms of quality, reliability and innovation." Interbrand defines its rankings by analyzing brands according to their financial strength, their importance in the buying decision process, and their strengths compared to their competitors. It added: "thanks to its unique reputation, the Swiss watchmaking industry is ideally positioned to benefit from the growing global demand for luxury products," a conclusion that should encourage Swiss watch manufacturers to build on their current success.
*Sources: Federation of the Swiss Watch Industry (FH), Convention patronale de l'industrie horlogère suisse (CP), Bank Vontobel (Luxury Goods Shop reports from March and May 2013, VLGS), Contrôle officiel suisse des chronomètres (Official Swiss Chronometer Testing Institute, or COSC), Interbrand (Best Swiss Brands 2013).
Watches The Guide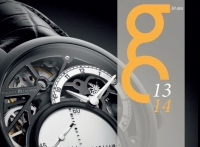 Download the pdf